R. David Lankes, a librarian I respect a lot posted a blog entry today about libraries and what's happening in Charlottesville, VA. The blog post talks about what libraries can do when terrible things are happening in their communities, and it really solidifies something that I've been trying to articulate for a little while now. Lankes writes:
Shouldn't libraries be place for all voices in the community? No. Libraries are not neutral microphones placed in a town square open to all comers. They are platforms of learning that acknowledge the full range of the views in a community, but with the community develop and support a learning narrative that pushes against racism and bigotry.
This trimester at uni I'm doing a paper on research methods, and I've just handed in my first assignment, a draft topic statement (exciting!). I'm planning on doing my research project on LGBTQ* youth, and some of the reading I've been doing for it, as well as the paper that I did last trimester on library services to children and youth, where we had a brief look at censorship, has got me thinking about censorship and the voices we share/allow/promote in the library.
As I said, I was having a difficult time articulating where the line is, because I believe in freedom of expression, but I also believe in inclusion, and that people have the right to be respected and valued, and not shunned or disadvantaged, or made to feel like they're less worthy because someone else thinks that they're wrong, which occasionally goes against freedom of expression.
Lankes goes on to say that:
Racism is a state of ignorance. It deliberately denies the positive effect of diversity and inclusion. Purposefully living in a state of ignorance is counter to the values and mission of librarianship. Therefore, giving voice to racism does not further the conversation or learning of a community.
This is what spoke to me, this idea that a library doesn't have to be neutral, that it can both promote freedom of speech, but still not give a soap box to haters.
As Randall Munroe (author of xkcd) puts it: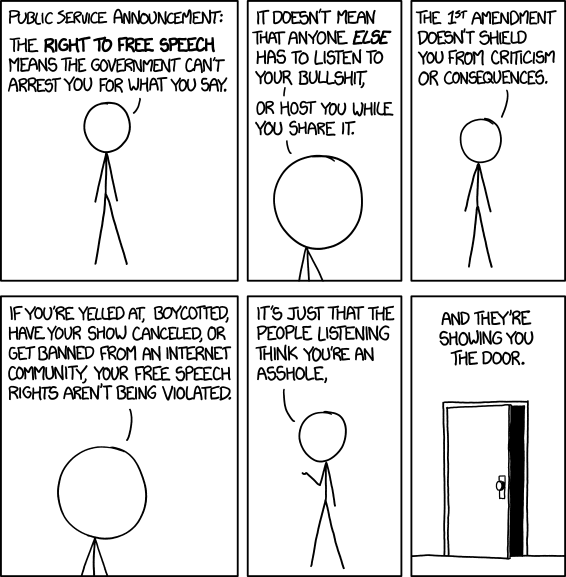 Or even Gregxb:
In a New Zealand context, freedom of expression is granted under the Bill of Rights Act, which states:
Everyone has the right to freedom of expression, including the freedom to seek, receive, and impart information and opinions of any kind in any form.
However, under the Human Rights Act it is illegal to promote racial disharmony (among other things):
It shall be unlawful for any person—

(a) to publish or distribute written matter which is threatening, abusive, or insulting, or to broadcast by means of radio or television or other electronic communication words which are threatening, abusive, or insulting; or

(b) to use in any public place as defined in section 2(1) of the Summary Offences Act 1981, or within the hearing of persons in any such public place, or at any meeting to which the public are invited or have access, words which are threatening, abusive, or insulting; or

(c) to use in any place words which are threatening, abusive, or insulting if the person using the words knew or ought to have known that the words were reasonably likely to be published in a newspaper, magazine, or periodical or broadcast by means of radio or television,—

being matter or words likely to excite hostility against or bring into contempt any group of persons in or who may be coming to New Zealand on the ground of the colour, race, or ethnic or national origins of that group of persons.
I guess that was a pretty lengthy way to say that I don't think there's any place for hate in libraries!